Rachael here!  Today we met with a man that could be considered a developer.  He buys land and builds mixed use high rise buildings under the business of Gerbera Ltd.  They usually contain commercial stores at the ground level with basements for the stores use and condos on the remaining floors.  The number of floors ranges, we saw the construction of a twelve story mixed use high rise.  Once he is done building the structures, he will sell each individual space to a company or family, however he fronts all the money himself first.  In this way, he is essentially the owner and sells his property.  At the beginning of his business, when he did not have such capital, he would have the eventual owners pay in increments beginning at the design phase all the way through to the signing of ACT 16 (certificate of occupancy). 
                He has a unique way of organizing and operating his business.  First, all the construction crew members are his own employees and he groups them into specific jobs.  There will be a crew that does all the ground zero work (up until the ground level), another group that does floor slabs, another that does stucco, etc.  And he will not pay them until 100% of the work in that building is completed.  In handling it this way, he has found that the groups push one another to work efficiently and to stay on schedule because if one group is going slow, then the other group cannot start their job and therefore they cannot get paid.  He also keep different projects at different construction phases.  One building will be at the ground zero phase, another at the floor slab phase, another at the stucco phase, etc.  This allows for there to always be at least one complete team working at all times.  Usually they start one building and then the ground zero crew starts another and so on.  There is one crane that is set on railroad tracks and is used as the crane for all the different buildings in the lot.  In this fashion it is very efficient that the crane does not have to be repositioned for every building.  He has about 20 high rise structures being constructed at one time.  The only job that he contracts out is the roofing work because that is a very delicate and involved process.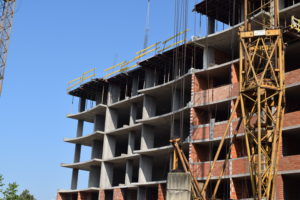 Since it is high rise building, the process of construction can take a very long time.  There is foundation work, column work, floor slabs and a great deal more area to construct.  Gerbera Ltd has come up with an ingenious way to save time.  They call it a drawer system.  It is where they frame out a floor slab, pour the slab, wait the 11 days to get early strength, then slid the forms out with a crane and place the forms (still intact and constructed) on the next story.  They entire process takes about 14 days and therefore they are able to pour two stories a month.  This is possible because they make each floor a beamless slab and if they do need a beam, they invert it.  This requires more reinforcement but it saves time so the cost more than likely balances out.  They have no way of making the columns more efficient; they must have two columns that run the entire height of the structure in both directions to help brace the system since it is not a steel braced structure.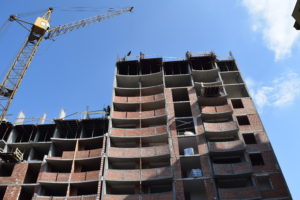 Another cool feature of the buildings is that they keep a 20 cm gap between each and fill it in with light weight foam to protect against earthquakes.  Therefore, each building's foundation is independent from the buildings adjacent and in the event of an earthquake, all the buildings would move in the same direction but they would be independent from each other. 
                We also visited a concrete plant and were able to see the operating room and stockpiles of materials.  This particular plant had 10 recipes that varied for use like foundation, walls, high strength, etc.   They are also able to create a custom recipe based on client request and in that event they would make a sample batch and test it before sending any concrete to the site.  They have their own testing facility at the plant and they make cubes (not cylinders like the US) and cure them in a lime bath.  They also do breaks at 7, 14 and 28 days.  They also test once daily each class of concrete they make.  The density of their concrete is usually 2.3 ton/cubic meter.  Their machines can mix 3.5 cubic meters of concrete at a time, the trucks can carry between 7.5-9 cubic meters and they maximum productivity of the plant is 110 cubic meters per hour.  They also source the stone and sand from two different quarries just in case there are any problems with the materials from one quarry.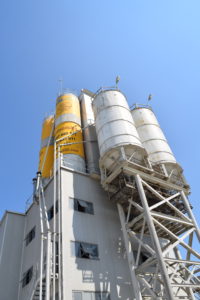 The operation of Gerbera Ltd was very different than the operation of Marinski and it was very interesting to see both.  But then again, they specialize in two different kinds of structures, high rises and low rises so naturally there will be some differences.